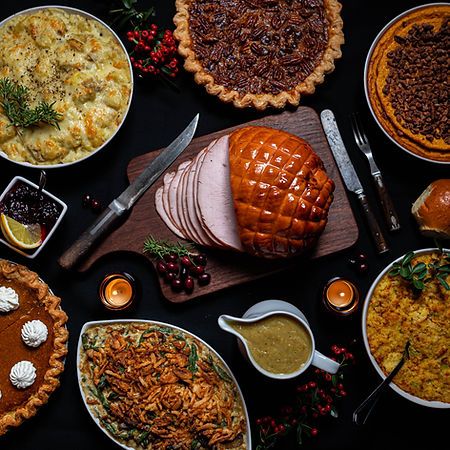 For the majority of people, the approaching holiday season means indulging in comfort foods, spending time with loved ones, and enjoying all the nostalgia that comes with the season.
Those of us with migraines, however, may be looking at all the upcoming events and wondering "what's going to trigger my symptoms and keep me from enjoying all the holiday cheer"?
That can be a daunting thought, and may keep you from feeling fully present during such a special time of year.
So let's talk about triggers
. There are many potential triggers to be aware of, whether that be plates of foods you don't normally eat, wine and liquor being offered at every gathering, those sweetly scented holiday candles lighting up every corner, or all the bright lights and sounds you may not be accustomed to. Because of this, it's important to plan ahead to keep symptoms at bay. Keep reading for our top tips to navigate the holidays when you suffer from migraines.
Drink at least one glass of water for every alcoholic or caffeinated beverage to combat the effects of dehydration. Still looking for something a little more festive? Experiment with a fun holiday mocktail or a cozy decaffeinated tea.
Limit portions of known food triggers
You may notice that certain foods really trigger your symptoms. For some that may be sugar, certain cheeses like brie or aged cheddar, or even processed meats like smoked sausage. Life should be about balance, but if you know one of those foods may send you over the edge, consider bypassing the charcuterie board or limiting the amount of sweets you eat.
Swap out your candles for headache friendly essential oil diffusers or simmer pots
Some great options for your diffuser may be peppermint, rosemary, lavender, chamomile, frankincense, or a combination of these. While touting potential pain and headache reducing properties, they can still create that cozy winter atmosphere you're after. It's important to be aware that not all of these may be pet friendly.

Another option could be making a simmer pot (aka stovetop potpourri). Consider simmering a pot of water on the stove with any spices or aromatics you have on hand to create a subtle holiday scent. Some inclusions may be orange slices, aromatic herbs like rosemary and lavender, spices like cinnamon, cardamom, sprigs of pine or cedar, or vanilla beans.
It can be tempting to let your physical activity slip when it's cold outside and you have a million family obligations to keep up with. However, maintaining an exercise routine is incredibly important for managing chronic migraines. Physical activity releases endorphins that act as natural pain killers and can help regulate your blood sugar levels. Even if all you can fit in is a light stretch session or a quick walk around the block, every bit adds up. Plus, family walks are a great way to connect with each other!
Maintain your sleep schedule
Maintaining your sleep schedule can be crucial for staving off those head-pounding symptoms. The bright side to it getting dark at 4pm means getting cozy and in the right frame of mind for sleep is easier than ever.
Avoid the lights by shopping online
If you're prone to headaches, and bright lights, loud noises, and strong scents are known triggers for you, opting to shop online may be your best bet. Another benefit? You can avoid the crowds and long lines full of last minute shoppers!
Travel with more peace of mind
When you have certain daily habits that help keep your symptoms at bay, travel can definitely put a kink in your routine. Consider bringing a few items from home with you to take the stress off your shoulders, head and neck. For example, if you have a pillow you love, bring it along for more comfort while you sleep. Is your bag weighing you down? Consider using a backpack to distribute weight across your back better instead of relying on an over the shoulder style.
The holidays should be a time of joy and relaxation, not stress about when your next migraine or headache might hit.
Going into the season with a plan will help you prevent the symptoms before they start and will create a good foundation for managing them if they do occur.
Don't let the fear of your next migraine or headache stop you from living the life you want and deserve.